Dobbin Building - Seasonal Exhibit
Visit the Ross L. Dobbin building from Victoria Day to Labour Day to experience our seasonal conservation exhibit, focused on biodiversity, conservation. Learn by visiting our exhibits of endangered species along with a brief history of Riverview Park and Zoo. Games, crafts and zoo scavenger hunts are available during the summer weekdays for kids of all ages.
During the summer season we host fun filled events with community partners.
This year's theme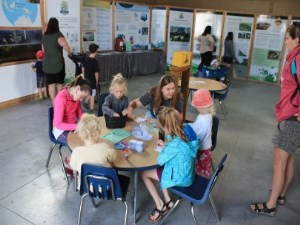 Each year our public education summer students create a new theme for the exhibit. This year we focused on Canada's Accredited Zoos and Aquariums (CAZA) and the conservation efforts Riverview Park and Zoo and the community have contributed.
Games and experiments are available so children and adults alike can learn
CAZA facilities and collective efforts for animal conservation and wildlife protection are displayed. Enjoy the scenic trail by the water.about endangered animals and the important role that zoos play in biodiversity.
The old monkey house
Located along the Otonabee river by the train station, the Dobbin building is also known by staff and locals as "the old monkey house" as historically it was home to the monkeys.