Gift Shop and Guest Services
Gift shop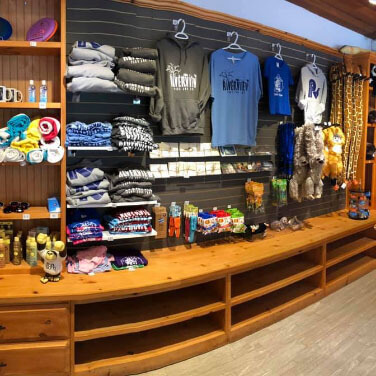 Looking for a special Riverview Park and Zoo souvenir?
The gift shop is inside the Guest Services building, just inside the north main gate. This fun store has a large selection of plush animals, children's toys, books and Riverview branded merchandise.
There's also a convenient ATM if you need to grab some cash for your day.
100% of the proceeds from the gift shop go directly back into supporting the Park and Zoo.
Open 9 a.m. to 4 p.m. daily in the summer, and on weekends in the fall.
Guest Services
Wheelchair and wagon rentals
Wagon rentals are available at a cost of $8 for four hours.
Wheelchair rentals are available free of charge at Guest Services.
All wagons and wheelchairs must be returned before 4 p.m.
Access to the wheelchair accessible swing and the accessible change room are available by request.
Please note that wheelchairs and wagons will be rented out at a first-served basis due to a limited supply. No reservations or waitlist.
Personal identification and a rental agreement form must be completed to rent wheelchairs, wagons, and to get access to the wheelchair accessible swing.
Visitor inquiries
All general questions can be asked in person at guest services during open hours.
During off hours, call the general line 705-748-9301 ext. 2304.
Lost and found
If you have lost an item, visit Guest Services or call the general line 705-748-9301 ext. 2304.
If you have dropped an item in an exhibit, do not try to retrieve it. Call the general line to leave your name, phone number and a description of the item so that staff can return your item to you.
Other features
You can visit Guest Services during open hours for the following services:
First aid services
Lost child or lost parent
Registration for education programs
Adopt an animal
Donations