We have a big volunteer team that makes us possible and help us do more!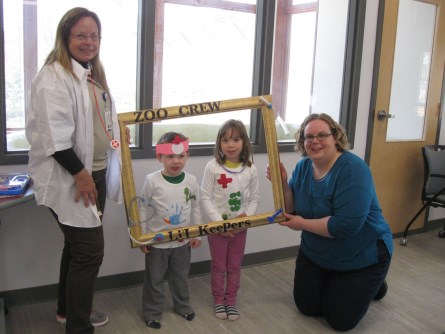 Co-op Programs
Each year we take on select co-operative student placements from secondary and post-secondary institutions seeking skills job training. We provides unique experience and hands on training that have helped hundreds students become successful professionals in their chosen field.
Education Program Ambassadors
Tours and programs supported by enthusiastic talented volunteers who donate their time and expertise. Here we believe in mentorship and offer great intergenerational opportunities for retirees and educators-in-training to share knowledge, skills and perspective.
Summer Volunteers
Touch Tables
Get up close and learn all about our artifacts that provide visitors with a hands-on story of why animals and nature are the way they are. Ask and answer questions that help to explore the fascinating facts that make up our natural world and discover our place in it.
Seasonal Conservation Exhibit Host
Each year we welcome ambassadors to help make a one of kind fun learning experience for our visitors. Run activities, play games and animate the epic knowledge that discovered at accredited zoos and conservation centers. Learn and teach about endangered or at-risk species. Investigate what each of us can do to help.
Highschool students can get their required hours as a part of our summer volunteer program.
Invasive Species Brigade
Be a part of the team that identifies, creates awareness and in some cases remove invasive plant species from the park and zoo property. Help protect our urban forest and pollinators and be aware of what each of us can do to help.
Adopt a Garden
Are you a horticultural artist at heart? Are you an enthusiast of living things? Do you enjoy meditating while pruning a garden? Have you been looking for a great team building excercise for your group? Adopt a Garden At Riverview Park and Zoo. By special arrangement and approval, groups are assigned a garden space to care for from April to September. Groups supported by our horticulture team and recognized by personalized flagstones.
Special Events
Fun Run
Saturday May 20, 2020 is the 11th annual fun run or walk raising money to help expand and enhance the cat exhibit. We need volunteers to run water stations, marshal the race and help keep the day safe and enjoyable for all. Volunteers put the fun in our run.