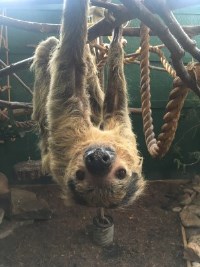 School and community groups can book education programs at the Zoo.
Two and four hour curriculum-based programs are available, consisting of in-class exercises, an animal encounter, and a tour of the facility. The programs are run by trained Zoo educators with the support of classroom teacher and chaperones. Programs run on most school days. Special weekend visits are available upon special request.
Fill out an Educational Program Booking Form and contact us before your visit.
Buses
There is no on-site bus parking. Buses are only permitted to load and unload in loading zones.
Visiting without booking an educational program?
Contact us prior to your visit or check in with Guest Services upon arrival.