Visit Us
We are a unique facility offering attractions to people of all ages. Located just north of downtown
Peterborough, Riverview Park and Zoo is a fabulous place to enjoy a leisurely stroll in a peaceful and
tranquil setting while experiencing the natural beauty of Peterborough.
We are Canada's only free-admission accredited zoo. Donations make us possible.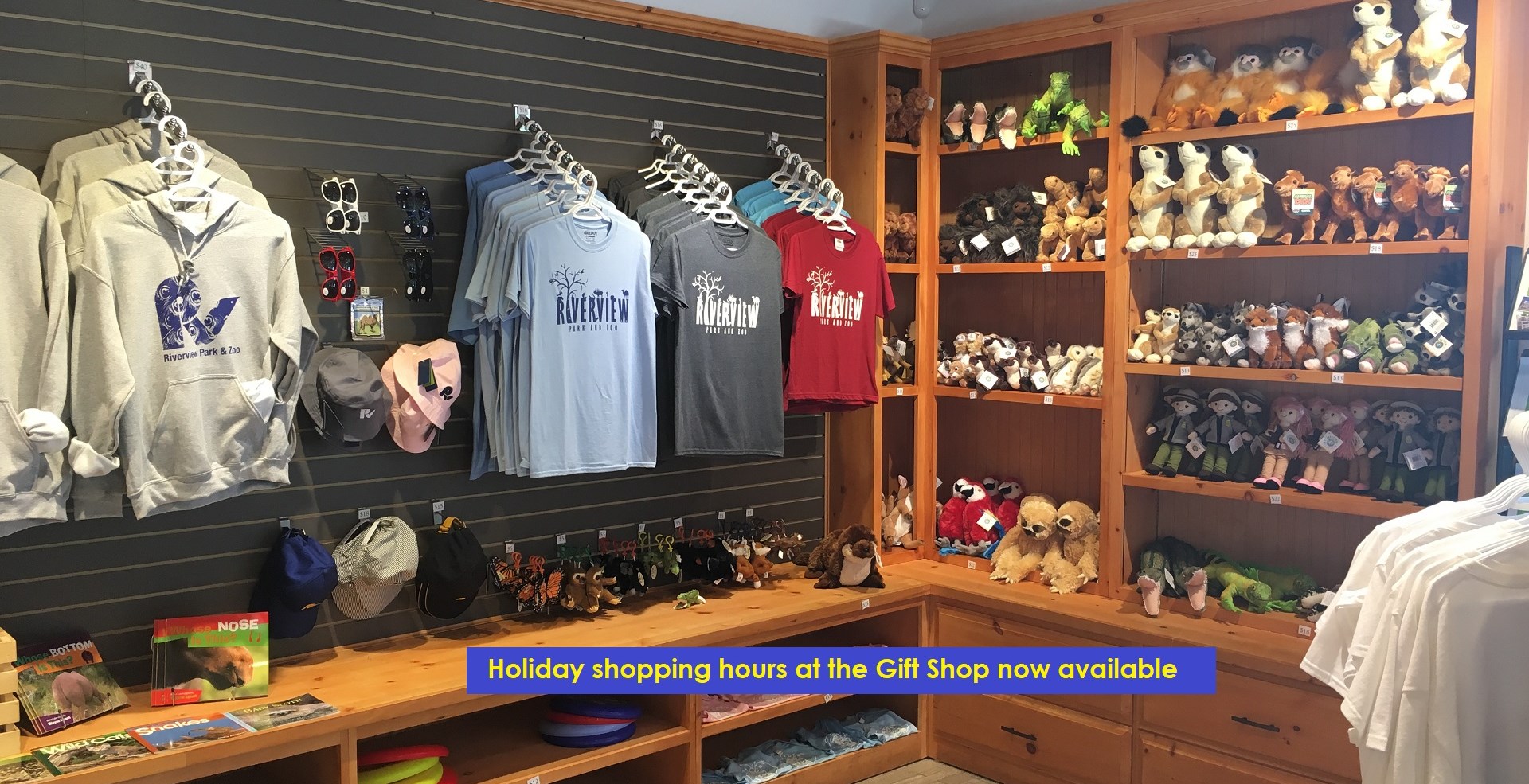 News and Special Events
Riverview Park and Zoo is proud to be Canada's only FREE accredited zoo, open daily from 8:30AM until dusk all year round. While the miniature train ride, snack bar, and Guest Services are closed for the winter, we still invite you to come visit the many animals here in their exhibits and enjoy a relaxing day at the zoo!
- For a limited time only, the Gift Shop will be open for you to cross some items off your holiday shopping lists. Our RPZ-branded clothing is always popular with visitors, or we also offer stuffed animals, wildflower honey sourced right here at the zoo, as well as a variety of stocking stuffers available for purchase.
Gift Shop Holiday Hours: Friday, November 24 (10AM-2PM),
Sunday, December 3 (12PM-3PM), and Monday, December 18 (10AM-2PM).
- Consider an animal adoption for an upcoming birthday celebration or to place under the tree this year. Adoption packages include a quality animal photo, adoption certificate, fact sheet, and a personal letter of thanks from the Manager and Curator.
- Visit the Otter Exhibit at 1:30PM daily to watch Splash, Bolt and Lawrence get their afternoon enrichment and snack. Discover some interesting facts about the North American river otter. Always a guest favorite!
- Enjoy our scenic walking path along the Otonabee River shoreline as the seasons change. This path travels from the Dobbin Building and connects you to both the playground or lower-level picnic area.
- Help support our capital campaign to replace the miniature train and reach our fundraising goal. Riding the train at the zoo has created fun family memories for generations spanning over four decades. Let's keep it going!
- Already planning a family reunion or special occasion for next year? Picnic shelter bookings for the 2024 season are now open on a first come, first serve basis for City of Peterborough residents.
- Donations are always appreciated at Riverview Park and Zoo and help make us possible. QR codes can be found throughout the grounds, a donation box is located outside of Guest Services, or simply click the yellow button at the top of your screen. Thanks to all for your support!
About Riverview Park & Zoo
We are proud to be the only free admission accredited zoo in Canada. Operated as a department of Peterborough Utilities Commission since 1933.
Advancement and growth has been made possible through generous donations and support from community members, local businesses and visitors.