The miniature train ride is an 1860 locomotive replica. Located at the south end of the Zoo under the sabre jet, the train track is over two kilometers and the ride is approximately ten minutes long.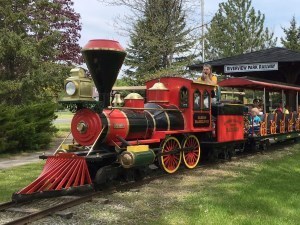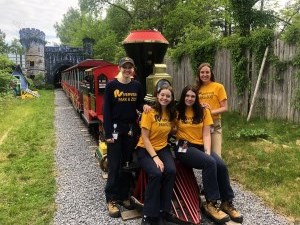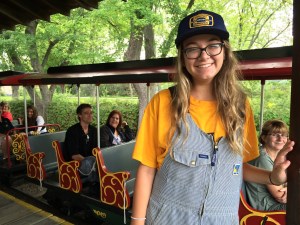 Train operation information
Open during the summer season every day from 10 a.m. to 6 p.m.
Cost is $2 per person, with children two years and under riding free.
The train will only operate under safe conditions. Rain, thunder, lightning and strong winds prohibit train operations for your safety. Logging on the dam will also prevent train operations – conductors will open as soon as they can.
It is not on a schedule; however, it runs as much as possible.
First-served basis – reserved rides are not permitted.
Cash, debit and credit accepted.
The train does not travel through Zoo to see animal exhibits; it travels across the river and into the forest.
Large groups can NOT reserve tickets.
Wheelchair accessible cart on train – please let the conductor know when purchasing tickets.
Tickets for the train are purchased at the train station the day of your ride.
Sensory notice – the train can be loud and does enter through a dark tunnel.
The train is a part of the Access 2 Members – support workers do not have to purchase tickets when accompanying during rides, let the conductor know and show your Access 2 card upon purchase.