Riverview Park and Zoo is committed to accessibility. Our free-admission zoo welcomes all visitors to learn and experience more about the natural world without barriers. Many amenities are available for guests with different levels of physical ability.
Service animals
Service animals are welcome, however we do not allow pets. Some animals can threaten the health of our zoo animals. It is important that visitors with certified and working service animals start their visit at guest services or by contacting the zoo office. This will enable us to ensure your visit is safe for everyone!
Wheelchair Access
During the summer operating season, our wheelchairs are available free of charge at guest services. A driver's license or Government Issued ID is required for use.
All washrooms and buildings are wheelchair accessible, equipped with ramps when necessary. Access to the wheelchair accessible change room requires a key sign out from guest services.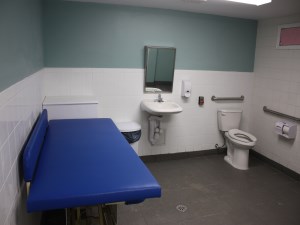 Wheelchair swings
Thanks to community fundrasing we have the only swings built for wheelchairs in Ontario! Visit guest services to get access to the wheelchair accessible swing. Government issued ID is required for use of the swing. A staff member is required to show you how to use the swing safely.
Outside of the summer season, please contact us in advance of your visit by phone or email so that we can arrange to be on hand to assist.
Ride the train
There is a wheelchair accessible cart on the train ride. Let the conductor know upon purchase of tickets and they will assist with loading and unloading of passengers. Purchase your tickets at the train station.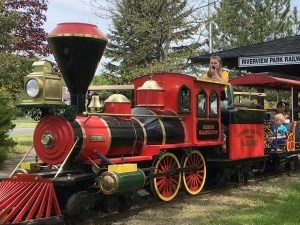 Touch tables
During our summer season our education ambassadors are found around the park with touch tables. These booths host tactile reference of various animal artifacts like antlers and shells that allow visitors to get a more hands-on learning experience.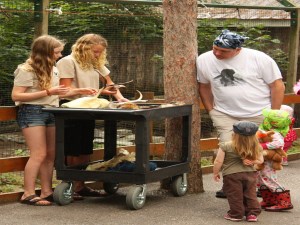 Accessible play
The playground is equipped with sensory play features like musical instruments and braille labels. You will also find accessible play structures. The four-way-rock-about allows children of different ages and abilities to play together and the accessible jeep and spinning saucer give the opportunity of sensory play as well!