It all started in 1933…
Riverview Park & Zoo began in 1933 with Ross Dobbin. Ross Dobbin was the General Manager of the Peterborough Utilities Commission (PUC). He was given two alligators during an American Water Works Association conference in Florida.
Over the next 30 years, orphaned and injured animals were donated and Riverview Park & Zoo was created. The facility grew in popularity within the community turning it into what it is today.
Since the late 1960s, the PUC has assumed full responsibility of operations to provide a modest base funding, allowing us to remain free to the public every day. We are now the only free Canada Accredited Zoo and Aquarium (CAZA) facility in Canada and feature over 40 animal species.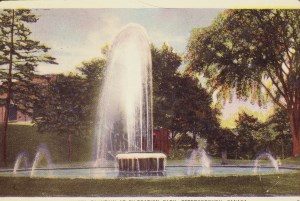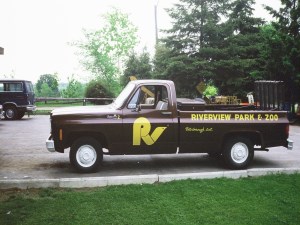 Looking at Riverview Park & Zoo over 85+ years
1933
Ross Dobbin receives two baby alligators as a gift from another participant at the American Water Works Association. They were kept in the old pump house.
1935
Alligators were put on display in the summer months. Small zoo is created.
1937-1947
Bear, swans, deer and "BoBo" the Rhodesian monkey are donated and added to the small zoo collection.
1968
Provincial bylaw permits Peterborough Utilities Commission to operate the Park and Zoo utilizing up to 9% of water utility revenue.
1970s
Facility is officially named Riverview Park and Zoo.
1971
Royal Canadian Air Force Sabre Jet memorial officially established on grounds.
1973
Original Totem Pole donated to the Peterborough Utilities by Whetung Ojibwa Crafts carved by Norman Knott of Curve Lake.
1974
Train ride constructed and opened to the public with support from James Hamilton Estate.
1982
Cat building and exhibit constructed.
1980s
Sir Sanford Fleming College carpentry class construct animal hospital, barn silo and event gazebo.
1985
Zoo is awarded first accreditation as a member of Canada's Accredited Zoos and Aquariums. The 50th anniversary celebration.
1995
Ornamental fountain constructed with funding support donated by local businesses.
1998
New primate building constructed.
2000
Xeriscape garden created.
2001-2002
Riverbank restoration project completed.
2001-2005
Kawartha Turtle Trauma Centre is created and housed at the old pump house.
2002
Old duck pond removed. First annual Peterborough Children's Water Festival held at the Riverview Park and Zoo.
2006
Old pump house renamed "Ross L. Dobbin Building" in honour of the founder of Riverview Park and Zoo. Island named McBride Island in memory of Stan McBride, past commissioner and Riverview Park and Zoo advisory committee member.
2007
New otter exhibit constructed and opened. Funding by donation reserve fund and Ray James. New splash pad opened funded by Ray James. Zoo perimeter fence completed.
2009
Education programs begin. Sabre jet refurbishment project. Playground major replacement project.
2012
On site Zoo Animal Health Care Centre was constructed and opened.
2013
Construction of the Rotary Education Centre and guest services building made possible by Rotarian Clarence "Pug" Puglsy estate and the Peterborough Rotary Club.
2016
New totem pole erected hand crafted by local artist Jody Paudash of Hiawatha First Nation to commemorate the original totem pole.
2017
Wheelchair accessible swing constructed in playground made possible only by community sponsorship and donations championed by James Todd and his family.
2019
Meerkat indoor exhibit updated made possible by 2019 fun run donations. Cat exhibit update.